Ashley Marie Burgos, also known as Amarie Burgos, is an American social media influencer, model, and entrepreneur. She became famous thanks to her mom, Bernice Burgos, who is also a social media star, entrepreneur, video vixen, and model.
She has caught the eye of many in the entertainment and fashion industry, thanks to her tenacity and her great mentor, her mother. The daughter-mother combo has invested in sleepwear for fashion-conscious women who want to look their best in bed.
To learn more about Amarie, check out the rest of our informative article.
Amarie Burgos Age and DOB.
Amarie Burgos was born on 9th May 1996. The model is 24 years of age at the time we compiled this article. Burgos has blossomed into a responsible, beautiful young woman.
We guess it's true that the apple doesn't fall far from the tree. Her mom, who is now in her early 40s, is looking better than ever too.
You would be forgiven for thinking that the pair are sisters instead of being mother and daughter. Part of the reason for this is that Bernice had Amarie at a very young; a mere 15 years of age.
Oldie but still a goodie pic.twitter.com/Grs7FqAHaB

— Amarie Burgos (@AmarieBurgos) October 18, 2017
Her mother, Bernice's secret, is that she spares no expense or effort always to look her best, and it has paid off. She is a Taurus Zodiac, and we can't deny that she is as charming as Taurus personalities come.
Who is Amarie's Mother, Bernice Burgos?
Amarie's mom, Bernice Burgos, is a force to reckon with in the entertainment industry. She describes herself as an entrepreneur and model on her social media. She is not lying, and her 6 million Instagram followers can attest to that.
Bernice came from humble beginnings. She started her adult life as a single mom who worked as a bartender. Bernice had to learn to rely on herself from an early age with a deadbeat baby-daddy who was in and out of prison.
Moreover, she was kicked out of her grandma's house after it was discovered that she was pregnant at 15 years of age. Thanks to her bartending job, she was discovered as a model at 27 years. Soon, she started appearing on hip hop videos as a vixen.
Bernice has been featured in hit videos by artists like Drake and Rick Ross. Moreover, she has also been featured in MTV's reality show, Wild 'N Out. Additionally, she has also appeared in various magazines like XXL and SHOW.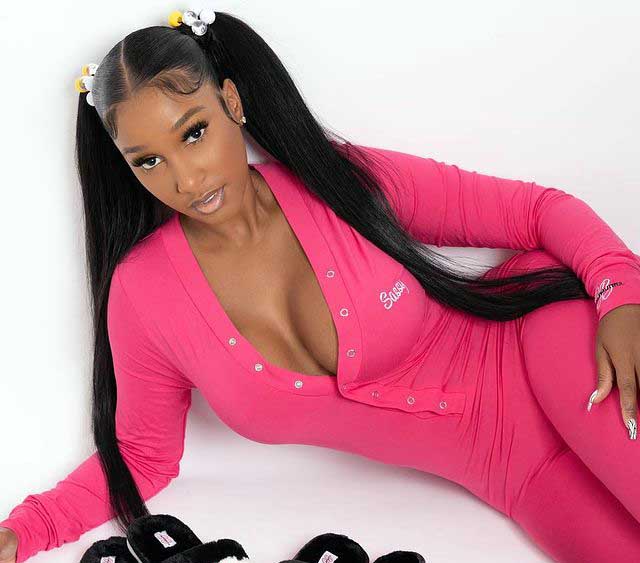 Amarie Burgos' Net worth and Career.
Berniece's daughter Amarie is making a name for herself in the modeling and fashion industry. She is estimated to be worth about $1 million.
Her income is sourced from her work as a model and as a fashion designer. She co-owns the sleepwear line named Bold & Beautiful. Amarie pitched the sleepwear idea to her mom, who jumped on it right away.
Moreover, she also works with Fashion Nova, a successful clothing brand. Amarie also advertises for the hair-extension company, Hair by Niecy.
Last but not least, Bernice Burgo's daughter Amarie Burgos has a fitness-wear online store named Miracle Fitness. You can find fitness gear for women, detox tea, fitness accessories, and various body creams on the site.
At only 24 years of age, Amarie is proving that age is just a number and that the sky is not the limit. Being a young mother hasn't slowed her down either.
Amarie's Personal Life. Siblings, Daughter, and Partner.
Amarie Burgos has a beautiful daughter by the name of India, Ava Aisha. India was born to her mother when she was 21 years old. Her baby-daddy stays far away from the model's limelight. However, it is reported by some sources that he is a music executive and businessman.
View this post on Instagram
Amarie has a half-sister named Sarai. Sarai Burgos is 10 years younger than her big sister. At 14 years of age, she has also been immersed in the entertainment industry. Sarai and her mom attend various events like the Kid Sport Choice Awards by Nickelodeon.
A look at her social media.
Amarie Burgos couldn't become a social media influencer without a huge following on sites like Instagram and Facebook. She ran an Instagram account under the name iam_amarie. Unfortunately, she deleted her account due to personal reasons. At its peak, the account boasted about 303K followers.
From her social media, we can see that one of Amarie's best hobbies is dancing. She also loves featuring her daughter and family on her posts too. Moreover, she uses her social media accounts to promote her businesses and other product through sponsored posts.
Amarie also appears frequently on her mother's Instagram account, where the duo is often seen posing in matching outfits.
Amarie Burgos' Wiki-Facts.
| | |
| --- | --- |
| Full name | Ashley Marie Burgos |
| Age | 24 years old. |
| Date of Birth | May 1996 |
| Place of Birth | USA |
| Profession | Model, fashion designer, and entrepreneur |
| Net worth | $1 million |
| Partner | Unknown |
| Kids | 1 |
| Nationality | American |
| Ethnicity | African-American |
| Zodiac Sign | Taurus |
| Parents | Bernice Burgos |