Danny Pudi is a famous American comedian/actor, known for his work in "The Community". Mixed-race kids often experience some form of discrimination from their peers, but many grow to become immune to them. This mixed-race immigrant, in particular, was born in Chicago to a Polish mother and an Indian father who recently passed away.
He has established a name for himself in the industry and has now become a renowned actor. Fans know him for appearing in films and TV series such as The Smurfs franchise, Impulse, and Mira, Royal Detective.
This is Danny Pudi and details on the American actor slash comedian's net worth, married life, and kids, only in this article.
Danny Pudi Movies and TV Shows
The actor and producer have a 14-year career beginning in 2006, starring on The West Wing and ER. Pudi was new to the industry, so he started small and took minor roles before becoming what he is today.
Fortunately, he got his big break in 2006 and brought the character of Abed Nadir to life on the Community franchise. The show ran from 2009 to 2010, where Danny appeared for six seasons.
Fast forward to 2011, after taking on even more minor roles, his character on Community made an appearance. Abed Nadir appeared on two episodes of the 2011 TV series Cougar Town.
2011 also proved to be a busy year as he would star in various TV series and shorts throughout. First, he voiced Ant Pharaoh on Robot Chicken, a show that makes fun of pop culture references. CollegeHumor Original's Save Greendale also featured him alongside fellow cast members of Community. Then, he played Vali Chandrasekaran on Chuck and Danny on Full Loaded.
In 2012, Danny reprised his role as Abed, voicing him on Community: Abed's Master Key, and starred in a movie. He starred as himself on The Book Club. Three years later, he appeared for the last time as Abed Nadir on the Community series after six years. Danny appeared on 110 episodes.
2016 saw him play Sami Malik on The Tiger Hunter and a special appearance as Fi'Ja on Star Trek Beyond. He also voiced Brainy on Smurfs: The Lost Village and Huey Duck on Welcome to Duckkburg – Ducktales.
The 42-year-old has starred in movies, though not as much on TV series. Movies he's made appearances on including Captain America: The Winter Soldier, Flora & Ulysses, Vijay & I, and Knights of Badassdom.
Danny has three projects still in production: Somebody I Used to Know, Corner Office, and American Dreamer. He also produced three movies/TV series, and one of them is The Book Club which he also starred in.
Net Worth
According to his IMDB page, Danny has over 84 credits to his name. His career in the spotlight has allowed him to amass a substantial amount of money. The actor's running-15-year career allowed him to accumulate $3 million and also allowed him to live lavishly.
He and his wife purchased Olympic gold medalist Betsy Mitchell's home in 2014 for $1.32 million. The home is located in Pasadena, California, and boasts 3,700 square meters.
Danny Pudi is Married to his wife Bridget Showalter Pudi, Kids
Danny is, in fact, a married man. He met his wife, Bridget, in his freshman year of college while he was a Communication student at Marquette University. They married at Iowa's St. Francis Xavier Basilica on June 5, 2004, and have been together for over 17 years. He posts hilarious photos like this on his Instagram page.
The Community star fathered two children, James & Fiona, on January 12, 2012.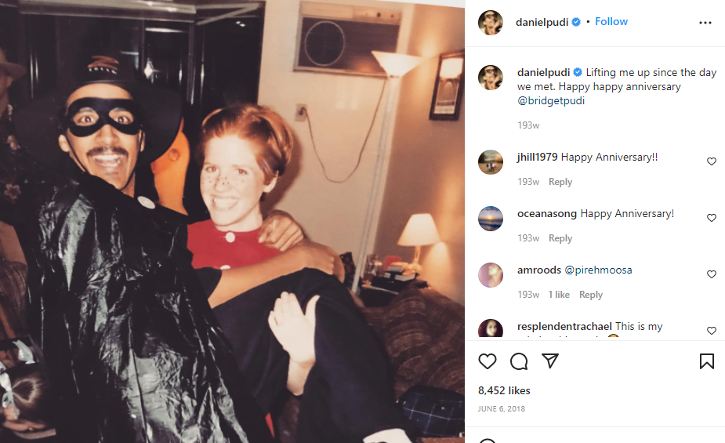 Who is Bridget Showalter Pudi?
Celebrities rarely get the privacy they desire, and the same could be said about their spouses – celebrity or non-celebrity.
Bridget's Instagram page is private, but she's a known vegetarian despite Danny being the opposite. She may not be as open as her husband, but it is clear she loves him and their children very much. Posts like this show just how close the Pudi's are with each other.
Danny Pudi Info
| | |
| --- | --- |
| Full Name | Daniel Mark Pudi |
| DOB | March 10, 1979 |
| Profession | Actor |
| Age (2022) | 42 |
| Place of Birth | Chicago, IL, USA |
| Relationship Status | Married |
| Spouse/Girlfriend | Bridget Showalter Pudi |
| Children | Two – James & Fiona |
| Net worth (early 2022) | $3 million |