David Muir is an American journalist and correspondent who is currently working for ABC News Tonight in New York. He is also the Emmy Award-winning anchor of ABC News magazine 20/20 based in New York City. Does he have a partner?
Read this to know if David Muir is Gay or married to his wife. Know his net worth and salary.
David Muir's Early Life.
David Muir was born on 8th November 1973. He was born in Syracuse, New York, by his Roman Catholic parents Ronald Muir and Pat Mills, and was raised in Onondaga Hill.
David Muir has one older sister named Rebecca Muir and two younger step-siblings. Unfortunately, none of their names or information can be found. Also, it is believed that David Muir has six nieces and three nephews.
From a very young age, David had a strong interest in journalism. As a result, he used to mock broadcasts in his family's living room when he was only 10 years of age.
Moreover, he was so captivated by journalism by the age of 12 that he would find an excuse from playing with his friends just to watch the news in the evening. He credits the veteran anchor Peter Jennings as his biggest influence.
Furthermore, David would put on a long trench coat and dress up as a news reporter during Halloween night. This clearly showed that he had strong determination and passion for becoming a journalist in the future.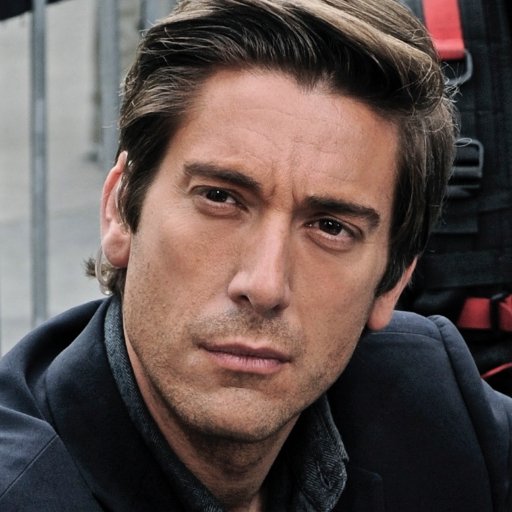 David Muir Education.
David completed his high schooling at Onondaga Central Junior-Senior High School in May 1991.
Muir graduated from the Roy H. Park School of Communication at Ithaca College. He chose his major to be journalism. Also, he was an anchor on a student newscast during his first college year.
He also chose a minor in political science, which included studying at the Institute on Political Journalism in Georgetown and interning at the Department of Health and Human Services.
He graduated in 1995, but he still continued mentoring new students at his university. Muir gave the college's commencement speech in 2011. In 2015, he was awarded an honorary doctorate.
During his college years, Muir did a semester abroad at the University of Salamanca in Spain, and he claims to be fluent in Spanish.
Career.
It was no doubt that Muir wanted to be a journalist. When he was only a young teenager, he wrote a mail to the anchor of WTVH Channel 5, Ron Curtis, regarding the process of getting a job like his.
At only 13 years of age, he started interning at WTVH. David used to carry tripods for reporters on the field, ripped scripts, and got Coca-Cola for the anchors. He learned a great deal about being a journalist.
After graduation, he started working full-time as a reporter and an anchor for five years.
In 1995, he traveled to various locations to cover the assassination of Israeli Prime Minister Yitzhak Rabin, for which he was honored by the Radio-Television News Directors Association and the Associated Press. Moreover, he was also named one of the Best Local News Anchors in Syracuse.
In the following years, he reported serious cases like 9/11 hijackers, for which he received Edward R. Murrow Award and National Headliner Award. He was also honored for his work by the press and Associated Press.
In August 2003, David Muir started to work as an anchor for ABC News' World News Now and quickly became the lead correspondent for the network.
In subsequent years, David Muir was appeared to be featured in multiple news shows and had his first official broadcast by the name World News Tonight with David Muir on September 2, 2014, which became the hottest evening newscast in the US.
Apart from interviewing Apple CEO Tim Cook and Barack Obama, one of his notable works was his interview with Donald J. Trump after the President was inaugurated.
Awards.
Muir has won multiple Emmys, Edward R. Murrow, and Society of Professional Journalists honors in his career. He was also named People's Sexiest Newsmen in 2017.
 In 2015, he was the recipient of the honorary doctorate degrees from Ithaca College and Northeastern University. He also won the Jessica Savitch Award of Distinction for Excellence in Journalism. Lastly, he was entitled Citizen of the Year by Temple Adath Yeshurun in Syracuse in 2017.
David Muir Net Worth
From a 2014 report, it was estimated that from his profession as a news anchor and corresponded, David has a salary of $1 million per year. Having worked in over a dozen of tv programs, it's obvious that David Muir's salary has accumulated to be a huge amount as of now. As of 2021, David Muir's net worth is $10 Million.
David Muir Is Not Married To a Wife Yet.
Journalist David Muir is single to this date. There are no reliable sources that tell whether this American has a love life. It is thought that this famous news anchor has voluntarily kept himself away from women.
Moreover, David has never dated any women in the past either.
David Muri Gay Rumors.
At some point in time, it was heavily rumored that the 47-year-old journalist could be gay. The rumors started to grow when he was spotted visiting gay bars and clubs with his gay friend, Gio Benitez. From this rumor, it was believed that David Muir could be in a loving relationship with his gay friend.
However, Gio Benitez later married his boyfriend, Tommy Daddario. Thus, ending the rumor of him being in a gay relationship with David Muir.
Nonetheless, David is single at this time of writing, and there is no information regarding his love life and sexual orientation.
There were also rumors regarding the health concerns of David Muir. However, he is completely fine and healthy. In fact, David constantly spends time working out in the gym. As a result, he is always in perfect shape.
Social Media Presence.
David Muir is active on various social media platforms. He has 471.9K followers on Instagram. Likewise, he has 796K followers on Twitter.
Wiki Facts.
| | |
| --- | --- |
| Mother's name | Pat Mills |
| Father's name | Ronald Muir |
| Nationality | American |
| Profession | News Anchor, Journalist |
| Net Worth | $7 million |
| Gender | Male |
| Birth Date | 8th November 1973 |
| Birth Place | Syracuse, New York |
| Horoscope | Scorpio |
| Awards | Honorary Doctor, Emmy, Edward R. Murrow |