Elizabeth Huberdeau had dreams of one day becoming a model. Thanks to her marriage to WWE superstar John Cena, she reached fame before eventually parting with him. This non-showbiz ex-wife is now a businesswoman and an established real estate broker.
Read on to learn about Elizabeth Huberdeau, where she is now, her career, love life, and kids, only in this article.
Elizabeth Huberdeau and John Cena's Love life and Marriage
The WWE superstar dated Elizabeth in high school. Both were born and raised in Massachusetts to middle-class families. But, it would be a long time before Elizabeth would marry him on July 11, 2009. The wedding was simple and sweet and mostly consisted of close friends and family.
Elizabeth finally became famous as the WWE star's wife. Things were blissful at first as she was loyal to John and very much in love. But things would take a turn after both of them fell out of love.
The couple filed for divorce after only three years of marriage in May 2012. They did not divulge details about their love lives and preferred not to let anyone in their private lives. Furthermore, John Cena's former spouse, Huberdeau, refused to back down, which made the divorce process messy.
Financial problems are a common cause for the end of marriages. And Cena & Huberdeau's marriage was no different, as finances played a role in their divorce.
John approached Elizabeth with a settlement she refused to sign as she wanted to fix her marriage. Many celebrities sign prenups to secure their fortune, and the divorce would leave his ex-partner, Elizabeth, without a cent from his assets.
However, John failed to submit a copy of the prenup during filing, which the court requires. Additionally, Cena's alleged infidelity reached Huberdeau's lawyers.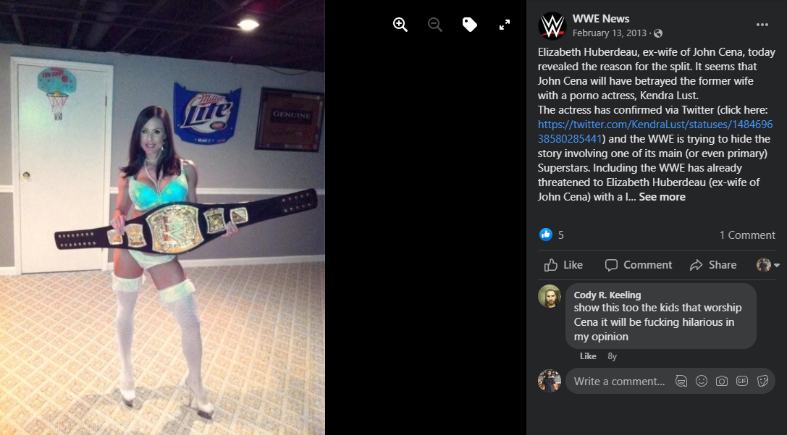 The court finalized their divorce on July 18, and the former couple finally ended their battle in court. Neither revealed the final terms & conditions of the divorce, and exact details are unknown.
Marrying your high school sweetheart is a different kind of happiness, just as leaving them is a different kind of sadness.
Their Kids
Elizabeth is childless, and there seem to be no plans to have a child or a family. She moved on from John Cena and is currently dating someone else.
Her ex-husband, John Cena, often makes appearances for children under the Make-a-Wish foundation but wasn't interested in fatherhood. Cena mentioned he doesn't wish to be a father anytime soon due to work-life balance struggles. He got a vasectomy before or during his marriage with Elizabeth as he focused heavily on his career.
Who is Elizabeth Huberdeau?
Elizabeth is just as private about her childhood as she was about her marriage with John Cena. But it is known that she was born in 1979 on September 28, to unknown parents, in West Newbury, Massachusetts. She and John dated in high school and met at Central Catholic High School or Cushing Academy. John is a recognized graduate of both schools.
Huberdeau then went to Springfield College in 1998 and graduated four years later with a bachelor's degree in Business. She majored in real estate and venture capitalism. Before settling in the business world, Huberdeau modeled after graduating. She attempted to become a supermodel in the mid-2000s and signed with an agency without success.
Reports show that the wanna-be model didn't have a lot of bookings. So, she decided to focus on real estate. She now lives in Florida and has her own real estate company.
Reports say she has a thriving career and lives a grand life thanks to her real estate job.
What is Elizabeth Huberdeau Doing Now?
Elizabeth doesn't share details on her current status with the public, even when she married Cena. It is also not clear if she does have any social media accounts, but three Instagram accounts, in particular, stand out.
John Cena's ex-wife, Elizabeth, has also moved on from her failed marriage with John Cena and is dating Eli Ayoub.
Quick Facts
| | |
| --- | --- |
| Full Name | Elizabeth Huberdeau |
| DOB | September 28, 1979 |
| Profession | Real estate broker |
| Age (2022) | 42 |
| Place of Birth | West Newbury, Massachusetts |
| Relationship Status | Dating |
| Spouse/Partner | Eli Ayoub |
| Children | None |
| Net worth (early 2022) | $10 million |