Music is an art, and it is a blessing that only a few people in the world have. This blessing was welcomed perfectly by three boys who made it their career at a young age and have been getting a lot of love and support from the public.
Pedro Tovar, Brian Tovar and Gabriel Hidalgo established the musical band Eslabon Armado in 2017. With their increasing popularity, people's curiosity about their wiki details has also increased. So let's get to know the boys better by reading this article until the end.
Eslabon Armado's Trio Cast Members
Eslabon Armado is a musical band based in California, United States. The band has a pretty exciting name which means "armed link" or "linked chain." According to All Music, the band was created in 2017 and consisted of 3 members, Pedro Tovar, Brian Tovar, and Gabriel Hidalgo. Pedro is the lead vocalist and guitarist, Brain is the bassist and harmony singer, and Gabriel is the lead guitarist and harmony vocalist.
Likewise, the band is quite unique as all the members are highly influenced by the music of their folk's generations. Eslabin Armado mostly contextualizes ranchera music with the vocabulary of sierrena music, or "music of the mountain ranges." Their first two singles, "Con Tus Besos" and "La Trokita," both debuted at the top of the Regional Mexican, Latin Songs, and Latin Streaming charts. Also, their other album, "Tu Veneno Mortal," got to number 1 position on the Mexican Regional Albums chart.
Lead vocalist Pedro Tovar Age and Biography
Pedro Tovar is the lead singer of the musical band "Eslabon Armado." Born in California in the year 2002, Mr. Tovar is 19 years at present. Likewise, his birthday is celebrated on 22nd July. Jugaste y sufrí singer began his career at an early age and is now famous for his musical skills.
He is a singer, songwriter, and also guitarist. He came to prominence when he and his brother and friends started a band in 2017. In fact, he is the man behind all the great lyrics of his band.
Now, talking about Tivar's personal details, he stands at the height of 5 feet and 5 inches and has a dashing personality. He has thousands of fans, and the majority of them are girls. However, the singer is committed to only one lady, and that is his beloved wife, Lily Tovar. To know more about him, do follow him on his verified Instagram handle@pedro.tovar007.
Eslabon Armado's Bassist, Brian Tovar Biography
Brian Tovar is the younger brother of Pedro Tovar, and he is well-recognized as the bassist and singer of the musical band "Eslabon Armado." According to Famous Birthdays, he was born in California in the year 2003. Likewise, he is 18 years old, and we can wish him a happy birthday on 8th October.
Only at 15 years, he created a band with his elder brother and a friend and impressed millions of people with their songs and music. Likewise, Brian's parents are very supportive; his mother was the manager of their band, while his father helped choose their band name.
Furthermore, Brian is an active social media user. He recently joined Instagram as @briantovar in 2020 and has amassed 219k followers in only a year.
Eslabon Armado's lead guitarist, Gabriel Hidalgo 
Gabriel Hidalgo is the third member of the band "Eslabon Armado." Along with the Tovar brothers, he established the band in 2017 and has gained a massive fan following for their unique musical style. Gabriel is the lead guitarist of the band.
Focusing on his personal details, he was born and raised in California in the year 2001. His birthday is celebrated on 25th July, and he is 20 years at present. Furthermore, not much about his family and early life is known, but one thing is undeniable that he has a massive number of fans.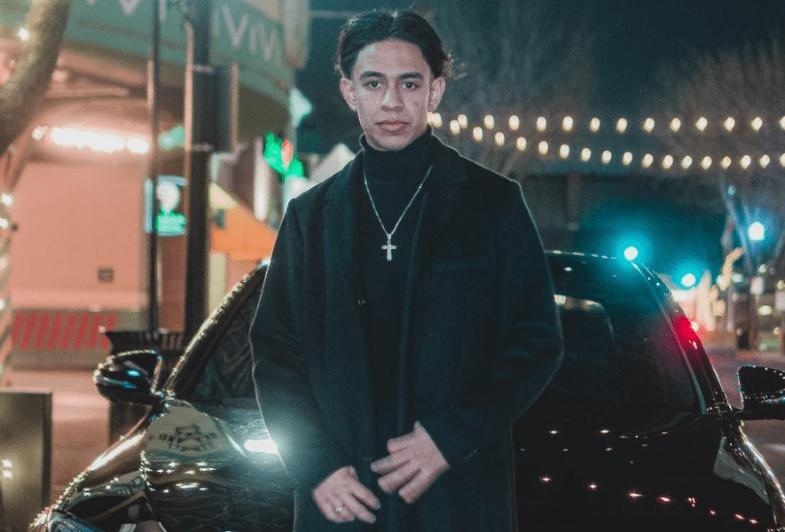 On Instagram, the guitarist is present as @gabriel_7gh. He has joined the platform in 2020 and has gathered 77.4k followers with only eight posts.