The award-winning American singer and actor Frankie Valli was born on May 3, 1934. He started his music and singing career back in the 1950s and is active to date with over a dozen studio albums. Frankie has appeared as a vital character in several movies like 'Miami Vice,' 'The Sopranos' and many more.
Besides singing and acting, 87-year old Frankie is also famous for his multiple marriage and divorces. He had three marriages in his life, and many fans are curious to know about all of his spouses. Thus, below we bring you a detailed timeline of Frank Valli's spouse, Mary Mandel, MaryAnn Hannigan, and Randy Clohessy.
Frankie Valli Spouse Timeline
Mary Mandel (marriage 1957-1971)
Frankie and Mary Mandel married in 1957. Frankie was barely in his 20s, while Mary already had a daughter from her previous relationship. Their love life before marriage is still undercover as the singer rarely speaks of it. However, the couple gave birth to two beautiful daughters, Antonia Valli and Francine Valli.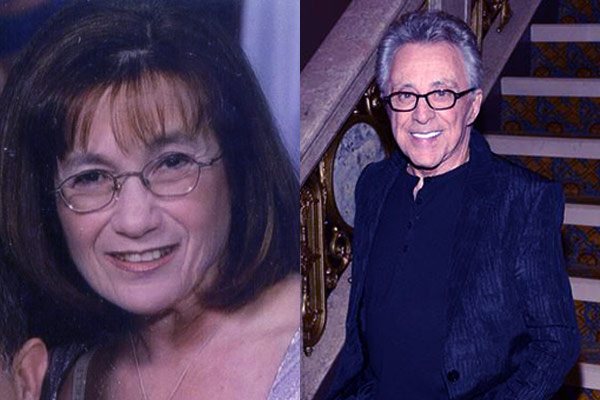 Although the couple shared beautiful relation, there were complications in their marriage due to Frankie's work schedule. He could only give his wife and children very little time as work was always the priority for him. Following the complications, Frankie and Mary divorced after 13 years of togetherness in 1971. Sadly, Mary Mandel took her last breathe on April 28, 2007, at a hospital named 'Saint Barnabas' in Livingston.
MaryAnn Hannigan (marriage 1974-1982)
After separation from his first wife, Frankie Valli met MaryAnn Hannigan in 1972 during his work. She was a beautiful music video model with blonde hair. Again, we are in darkness regarding their love life. The couple had three sons from their marriage.
It is a prevalent thing in the entertainment industry to have a relationship and lack commitment. Moreover, both Frankie and MaryAnn were in a similar profession. Thus, the couple could not overcome the situation. They called off their marriage in 1982.
Since the divorce, MaryAnn Hannigan has kept herself away from all kinds of media. Thus, we are unsure about her current status.
Randy Clohessy (1984-2004)
While Frankie Valli was married twice before, he was Randy's first love and spouse. She was just 24 when the couple got married in 1984. Like all of Frankie's previous love life, this one, too, is hidden. However, the couple did have a love life and enjoyed dating for years.
Even though they shared 23 years age difference, Frankie and Randy were one of the loveliest couples. They had a glamourous ceremony at Cathedral and later had a reception in Orange, New Jersey.
The couple stayed together for over 20 years and had immense love for each other. However, only love is not enough for a marriage to live long. There is another factor called time, and Frankie could not provide that to his family. Thus, things started falling apart after 20 years of togetherness. In 2004, they filed for separation and legally divorced in 2007.
After the divorce settlement, Randy Clohessy lives with her three kids in a beautiful house in California. She is probably single and is not seeing anyone recently.