Tia Torres is an American TV star of the Animal Planet popular show, 'Pit bulls and Parolees.' She has been on the cast of the show for 12 years since the show started in 2009.
Moreover, she is the founder of America's largest Pitbull facility 'Villalobos Rescue Center.' For her contribution to rescue Pit bulls, she was featured in a popular magazine as "Most Important People'. Furthermore, Tia is a former US Army personnel and served the country for six years.
Born on June 11, 1960, in California, Tia married Aren Marcus Jackson in 2006. She has three children Kanani Chock, Keli'i Chock, and Tania Torres. Kanani and Keli'i are her adopted children.
Today, we talk about Tia Torres' eldest son Kanani, his accident in 2020, and death rumors.
Tia Torres son Kanani Chock's Accident 2020
The 'Pitbulls and Parolees' cast Kanani is a passionate bike stuntman. Ever since Kanani has grown up, he has set his priorities and interest on animals, music, and bikes. Moreover, he has gained fame and followers with his one too many street bike stunts. He loves flipping in the air and getting dirty on his bike. However, his passion caused a tragedy for him and his family back in August 2020.
Kanani faced a dangerous bike accident while performing one of his stunts. This was the first fatal accident he suffered on his bikes. The accident landed him in hospital, fighting for his life. We do not have detailed facts about the extent of the injuries he suffered. His family has kept it a secret. However, the actor missed out on multiple episodes of the TV series following his accident.
Kanani Chock Health Update
After a life-threatening accident, Kanani has now returned to his TV series. We do not have any information on the injuries he might have suffered. Also, the family has kept the accident details a secret. However, his recent Instagram post with his Honda 250 2 strokes suggests that he is in perfect health.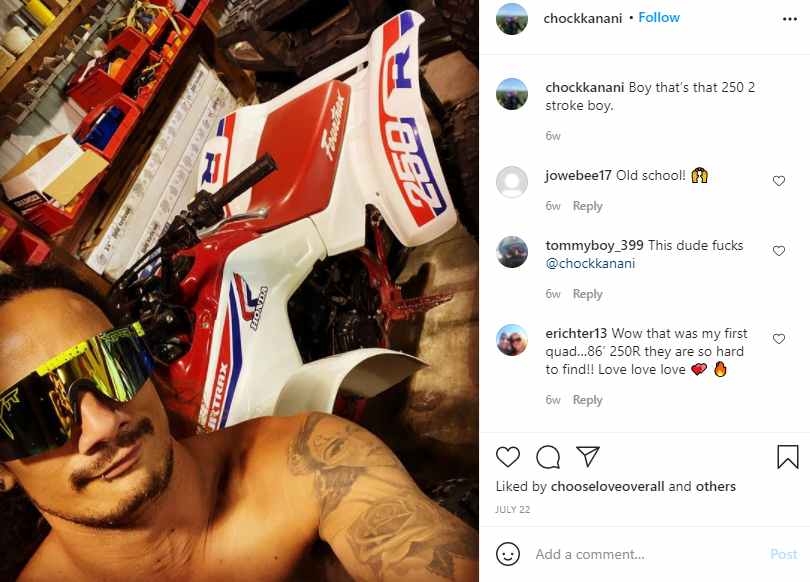 Tia Torres Son Death: Rumors Vs. Facts
There are many rumors on the internet about the death of one of Tia Torres's sons. We know that her eldest son Kanani suffered a fatal accident. However, he has recovered from it and is in good health as of now. So, what are the rumors on the internet? What is the fact?
On December 8, 2018, Tia posted a story on her Facebook account, mentioning the demise of Colin, one of her closest employees. Colin joined the team of Villalobos Rescue Center right from its starting days. He and Tia's children were like siblings. Colin stayed with them throughout the journey of the organization till the time he lived. Unfortunately, he met an accident on his bike and lost his life. Thus, it was not Tia's son Kanani who died. It is just a rumor.
Kanani Chock Biography, Wife, Net Worth
Kanani was born on April 20, 1987, in Southern California of the United States. The 34-year-old family member is the eldest son of famous TV celebrity Tia Torres. Tia adopted him at a very young age along with his twin brother Keli'l Chock. We could not find any details on Kanani's biological parents.
Kanani is the cast of his mother's show 'Pit bulls and Parolees', which as of 2021, premiers on the Discovery+ channel. Kanani works on the ranch and kennels projects on the show. Moreover, he plays various instruments with his brother Keli'l and is very famous for it. Kanani is also passionate about bike riding and performing street stunts. He and his brother have impressed and attracted a lot of fans with their bike skills. The 34-year-old has 10.6k followers on his Instagram handle @chockkanani.
Furthermore, the star is famous for his attractive personality and deep brown eyes. He is married to his long-loved girlfriend Mariah Torres. The couple started dating in 2013 and shared marriage vows in 2018. They are blessed with a beautiful daughter, Leilana. Mariah has posted an adorable picture of their daughter turning nine months on her Instagram account @mariahchock_m2.
As of 2021, Kanani has an approximate net worth of $500 thousand. His annual salary is still under review. However, he gets paid around $1500 per month on the show, which is his primary source of income.